BDD Houston News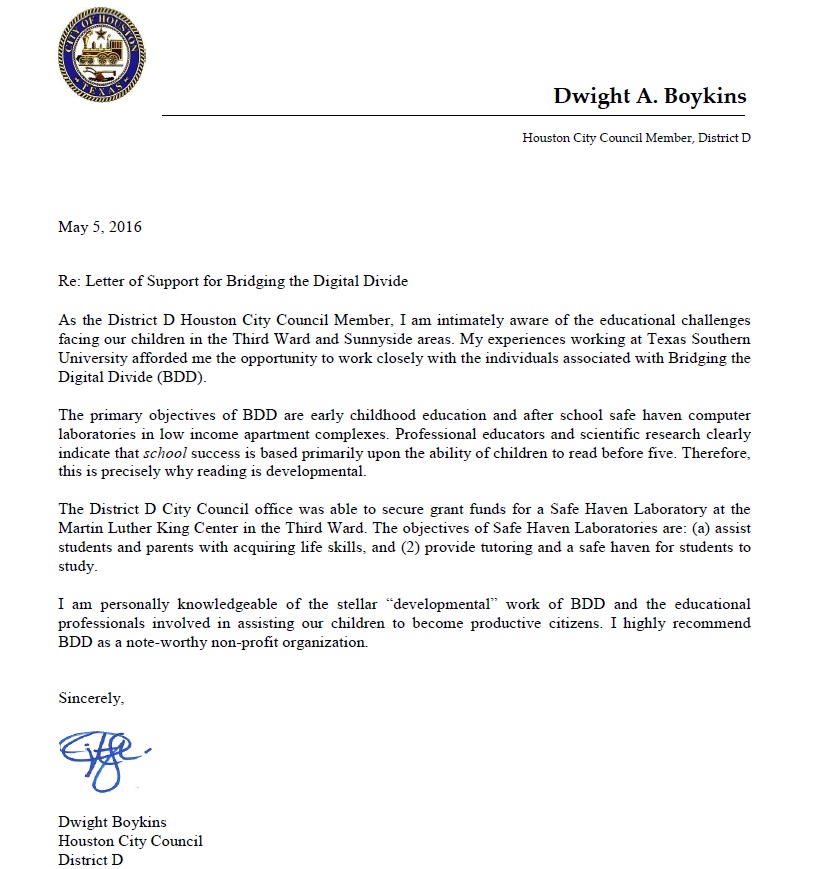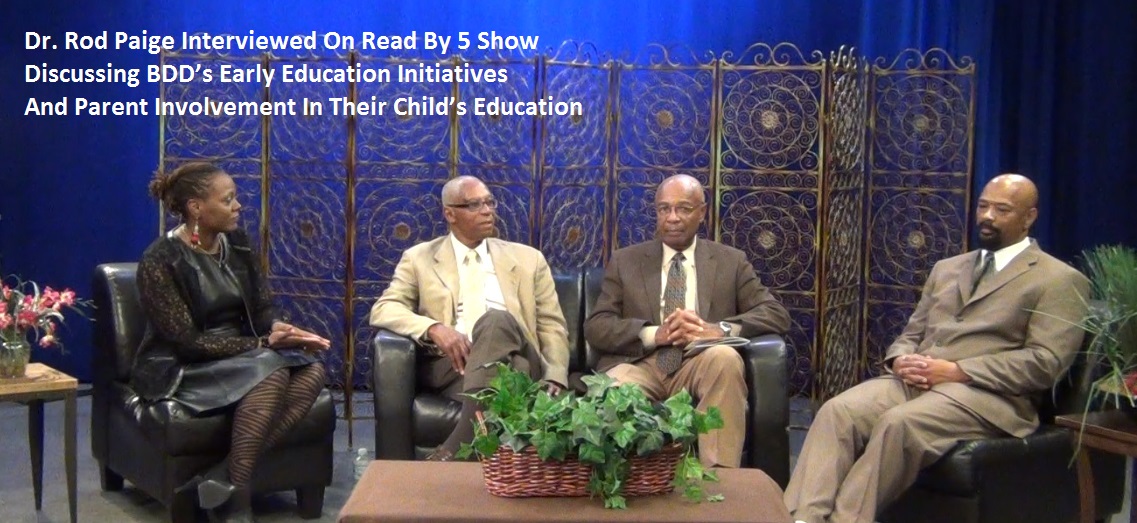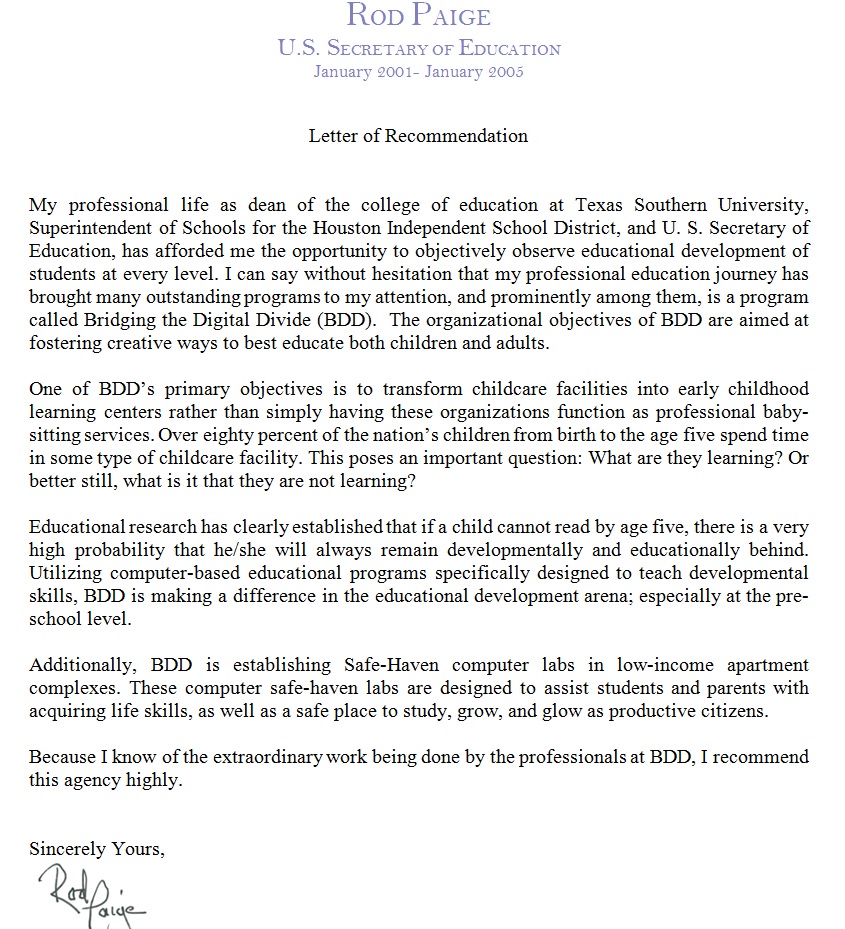 To watch short Dr.
Paige video click on video email below or to watch entire Dr. Paige interview
click You Tube Channel link below. Dr. Rod Paige was the first African American
HISD Superintendent and the first African American to be appointed Secretary of
Education.

BDD You Tube Channel: Read
By Five And Computer Safe Haven Initiatives
Letters Of Support :
Houston Social Venture Partners provided a grant to BDD to implement the "Read by Six Initiative" in North Forest. In 2005 Bridging The Digital Divide established the first Wi-Fi Network at a HUD apartment complex.  TheIndependence Hall apartment complex was the first apartment complex in the state to provide free wireless Internet and computers to its residents.  The technology used at Independence Hall was from LocustWorld. The LocustWorld Mesh is the most widely used and successful mesh networking system in the world.

LocustWorld has posted the Houston story on the first page of their web-site.

Mesh in Houston TX brings Internet and Independence to Wheelchair Users

Story Below:

Independence Hall, in Burress St, Houston, Texas, is a Houston Housing And Urban Development Property, providing wheelchair friendly accommodation in 292 apartments for qualifying residents. Wireless Mesh brings Internet to the apartments in the complex, and together with computer access programs the residents now have a much needed link to the Internet. Wireless Mesh is a low cost, high performance new technology that delivers rapid results in deployment of wireless Internet in very many environments.

The mesh in Independence Hall shows how Wireless Mesh can be used to deliver Internet services in a residential environment. The benefits of Internet access are particularly apparent for physically handicapped people who rely on social services and other external agencies and who have limited mobility. Online Shopping, Email, E-Government and many other Internet based services are all the more valuable to physically challenged users who, ironically, are often the least well supplied with conventional Internet services.

Thanks to the Mesh Network set up by Wil Guidry and Johnny Molock from Bridging the Digital Divide Inc., universal Internet access is now available throughout Independence Hall. Lee Huebel, a consultant for Independence Hall, is overseeing the project. Lee says the Mesh Network reaches 90% of the apartments in the complex and plans are in progress to extend coverage to 100%. The network is being extended by Will and Johnny by adding more meshboxes to increase the coverage. Traffic Charts show how daily Internet access is increasing as more residents get online.

The project has recently received attention from Congressman Gene Green, who toured the complex in December, meeting residents and learning of the benefits that they receive from the Internet access program. Congressman Gene Green is a member of the House Subcommittee on Telecommunications & the Internet and takes a keen interest in issues relating to Access to Technology, closing the "Digital Divide". Nicole Robinson, Director of the City of Houston Digital Inclusion Project and Dr Edward Pringle, Director of Houston HUD, also visited Independence Hall to learn more about the benefits of the system.

The Internet access program at Independence Hall is now being used as a model for planning larger scale projects throughout the City of Houston.

"Bridging the Digital Divide" is the mission of "BDD-Houston", who are using wireless mesh to deliver affordable Internet access to city residents

Links:
www.bdd-houston.org
Congressman Gene Green on Telecoms Issues

Previous bulletins from BDD on Houston Mesh Project Progress:

Friday, December 7, 2007, at 10am Congressman Gene Green will tour Independence Hall Apartments, a nonprofit-owned apartment property located at 6 Burress Street, Houston, TX 77022. With the help of Johnny Molock from Bridging the Digital Divide and Lee Huebel from Independence Hall, residents are receiving free computers and free wireless Internet connectivity.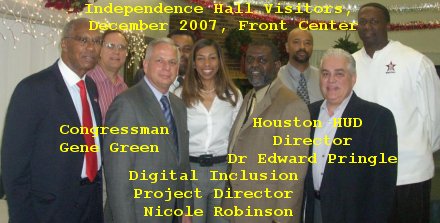 Residents at this HUD-financed property must by physically challenged or elderly, and they must income qualify. So free Internet-ready computers and wireless Internet connectivity is a valuable amenity for Independence Hall residents. "Many residents are confined to wheelchairs, and having computers with Internet accessibility in their apartments will make life a lot easier," says Greg Douglas from Creative Property Management, the company that manages the apartments. Having access to the internet allows disabled and elderly residents at Independence Hall to have the ability to access needed social services from local, state and federal agencies and service providers. Furthermore, they can now shop for groceries, medications, and other goods online, as well as send email messages to family and friends. Some residents can also receive medical advice and take educational courses online.

Johnny Molock from Bridging the Digital Divide stated, "This Wi-Fi community is a Digital Inclusion Model for apartment complexes that serve low-income renters".
For more information, please contact: Johnny Molock at (713) 240-3658.

Digital Inclusion Model for Apartment Complexes

Residents of the Independence Hall apartment complex, located in North Houston, are celebrating because they are now receiving free Internet ready computers and wireless Internet connectivity. This is a valuable amenity for Independence Hall residents. The majority of residents are confined to wheelchairs and having computers with Internet accessibility from their apartments will make life a lot easier. Having access to the internet allows disabled and elderly residents of Independence Hall the ability to access needed social services from state and federal agencies, as well as, other commonly used agencies. Furthermore, they can now shop for groceries and other goods online, take college courses, and send email messages to their family and friends. Some residents can also receive medical advisement and treatment online.

Independence Hall Apartments were constructed in 1978 and are comprised of 297-units designed for handicapped accessibility. In 2001, the Verizon Foundation provided funding for the Independence Hall Computer Learning Center, which consists of 12 computers networked and connected to the Internet through a DSL line. Heavily increased usage and limited Computer Learning Center hours frustrated the residents. Management alone with community partners determined that it was necessary to provide the needed services to each apartment. However, with limited funding they were only able to install the WI-FI Network and provide 30 residents with computers. We are looking for financial help and donations of retired Pentium III or Pentium IV computers to provide the other 200 plus apartments with computers.

Using Independence Hall as an example, Houston can be a model for Digital Inclusion. The United States leads the world in Information technology development, however we rank 14th among developed nations in terms of providing computer technology to our citizens. In Houston, 150,000 families qualify as low income renters. Because of their struggles, they cannot afford computers and internet excess. We can alleviate this problem and increase the technological capabilities of our emerging workforce by establishing WI-FI Communities/bubbles within apartment complexes that provide housing for low-income Houstonians, and insure digital inclusion for all.

All middle and high students must have an Internet accessible computer in their homes if we expect them to excel and compete academically. The Houston Library System provides free tutoring for students who access to the Internet. This free service, 3:30pm to 10:30pm daily, connects students from 4th grade to 12th grade to expert tutors in math, science, social studies, and English. Students who do not have computers in their homes do not have access to this beneficial service.

Finally, once an apartment has Wi-Fi a "Community Surveillance Zones" can be established utilizing surveillance cameras. City services, police and other emergency responders alone with residence, can access these cameras via the Internet thereby allowing 24/7 safe surveillance of properties with high crime rates.

For more information contact: Johnny Molock, Bridging The Digital Divide Inc. 714-240-3658
BDD in the News:
Cash-Strapped day cares benefit from donations
By JUSTIN GEST
Copyright 2004 Houston Chronicle
WANT TO CONTRIBUTE?
"Bridging the Digital Divide" rehabilitates and places unwanted or old computers into day care centers for free or minimal cost.
• Equipment needed: Any full computer (complete with monitor, central processing unit and keyboard) that still runs. There are no software or memory requirements.
• To make a donation:Bridging the Digital Divide: 713-349-0495 or molock@bdd-houston.org
• To get involved: Rickie O'Neal Winslow Development for Youth: 281-261-1853, 281-207-2490 or rowdyfoundation@aol.com
Those are just a few words that Simeon Reece, a 4-year-old from Midtown, can recognize, pronounce and spell.
Press him, and the precocious preschooler will also share that his emerging ability to read is the result of hours spent on computer programs.
Sitting quietly in his bright-yellow, kid-size chair inside Houston's Pilgrim Daycare Center, Reece is a poster child for a new initiative called "Bridging the Digital Divide."
Created by Houstonian Johnny Molock, the program acts as an intermediary between philanthropists and corporations that need to dispose of outdated or unwanted PCs and thousands of day care centers nationwide that cannot afford such valuable learning tools.
"In the mid-1990s, President Clinton organized a committee to understand the effects of computer technology on America," said Molock, a computer science graduate of Texas Southern University. "They found that blacks and Hispanics did not have the same access as white children. We are attempting to fulfill that committee's recommendation to bridge the digital divide."
After receiving the surplus computers, Molock and his three-man staff install child-oriented literacy software called CompuChildren. Their efforts have resulted in computer stations at about 200 day care centers throughout Houston, and several more as far away as Victoria and Atlanta, Ga.
Though many of the refurbished machines are free of charge to the recipients, "Bridging the Digital Divide" occasionally charges day care centers a minimal fee in the absence of a benefactor to assume programming costs.
Pilgrim Daycare Center on Blodgett got six free computers that were otherwise destined for scrap. In this case, Bracewell and Patterson law firm's trash was a treasure for day care director Muhsinah Touré.
"Before getting the computers, we were presenting the alphabet through play activities, and teachers could only evaluate progress in an abstract way," said Touré.
"This program gives us immediate feedback. And it gives me the confidence to say that we are going to deliver a strong and effective education."
The software reinforces Touré's curriculum by engaging children from ages 2 to 5 in short games of identifying the appropriate letter on the keyboard, respelling a given word or typing a word that corresponds with a presented image.
"We have seen the children have such a keen interest in the equipment itself," Touré continued. "Kids love pushing buttons. They don't even realize that they're actually learning."
To expand his network of benefactors, Molock has enlisted the support of former University of Houston basketball star Richie Winslow and his Houston-based charitable foundation.
"I'm trying to get people — whether it is (Houston Rocket) Tracy McGrady or simply a lawyer or a doctor or a schoolteacher — to realize how much they can help the community and all of the underprivileged families out there," said Winslow, who paid for the PC installation of the computers at Pilgrim Daycare. "Anybody can do it. And everybody has the opportunity."
"We know that if we hadn't given to these day care centers, they wouldn't have computers at all," Molock said.
"They can't drop thousands of dollars on a whole lab. We believe we have the formula to bring literacy at an early age to poor kids that otherwise can't afford it."
Paper: Houston Chronicle
Date: Thu 05/24/2007
Section: ThisWeek
Page: 1
Edition: 2 STAR
Wi-Fi forum to be held at Palm Center / Event aims to educate community
By KIM HUGHES, HOUSTON CHRONICLE CORRESPONDENT
A coalition of community-based organizations will host a free Wi-Fi community forum from 1-4 p.m. Saturday at the Palm Center conference room, 5400 Griggs Road.
The purpose of the event is to educate civic and business groups, as well as community members, about Wi-Fi and how it can be used to improve the academic, economic and social progress of the community, said Tracy Baskin, executive director of the Houston READ Commission.
"It's an information session and it's a way to encourage literacy throughout our city," Baskin said.
The main topic will be wireless Internet access for low-income people living in apartment communities.
Johnny Molock, technical director of Bridging the Digital Divide, said the city of Houston has contracted with EarthLink to build a wireless network that will eventually cover a 600-square-mile area.
"We take retired computer systems from corporations and place them in schools and facilities for people who normally wouldn't have access," Molock said. "Dell did a study recently and said there were 500 million computer systems retired by companies by the end of last year."
For information, visit www.houread.org or call 713-640-8201.
Paper: Houston Chronicle
Date: Thu 12/14/2006
Section: ThisWeek
Page: 5
Edition: 2 STAR
Computer Olympics set for Wednesday / More than 200 children will compete in contest
By KIM HUGHES, HOUSTON CHRONICLE CORRESPONDENT
More than 200 children are expected to compete during the 2006 Computer Olympic Challenge Wednesday at Jack Yates High School, 3707 Sampson St.
Kids from 2-12 will flex their minds as they tackle events including keyboarding, memory tests, counting money and telling time.
Gold medal winners in each event will win their own computer, courtesy of Bridging the Digital Divide, a nonprofit organization at 5910 South Loop East whose mission is to eradicate illiteracy and expand computer accessibility.
"We receive retired computer systems from corporations or organizations and put programs on them," said Johnny Molock, technical director at Bridging the Digital Divide.
"Then we take those systems and put them in childcare facilities and after-school programs."
The computers come loaded with more than 200 programs, including pre-school learning tools and fun games like Pac Man and Family Feud.
In order to compete in the Olympics, kids must be enrolled at one of Bridging the Digital Divide's facilities.
Approximately 16 children from BusiBodies Academy, 3926 Erie, are currently in training and will be attending the games.
"It's a competition where you get to play a game, and if you win a gold medal you get a laptop," said 6-year-old Tariq Powell.
"That's cool. I did it last year but I didn't win because I picked Pac Man. This year I'm going to pick something else."
Twon Mackey, 10, is a gold medal winner from last year. Last time, she won a laptop for taking first place in the mathematics multiplication event.
"I'm doing mathematics again, but division this time," Mackey said. "It's educational and it can be fun at the same time."
AT A GLANCE
What: More than 200 children will compete on Wednesday at Jack Yates High School during the 2006 Computer Olympic Challenge.
Fast Fact: Gold medal winners in 14 categories will receive a computer from Bridging the Digital Divide.
Quick Quote: "We've got 6-year-olds walking around with laptop computers practicing, and they might win a computer. They are very excited about that." – Gerrie Brown, BusiBodies Academy administrator
Copyright notice: All materials in this archive are copyrighted by Houston Chronicle Publishing Company Division, Hearst Newspapers Partnership, L.P., or its news and feature syndicates and wire services. No materials may be directly or indirectly published, posted to Internet and intranet distribution channels, broadcast, rewritten for broadcast or publication or redistributed in any medium. Neither these materials nor any portion thereof may be stored in a computer except for personal and non-commercial use.
HOUSTON CHRONICLE ARCHIVES
Paper: HOUSTON CHRONICLE
Date: THU 07/07/2005
Section: ThisWeek
Page: 1
Edition: 2 STAR
Internet independence

Staff
INDEPENDENCE Hall resident Elaine Griffin enjoys the free wireless Internet connection provided to residents of the apartment complex for the physically challenged by members of the Bridging the Digital Divide Coalition. Volunteers installed equipment to connect the complex, as well as donating adapters and computers to residents.
Copyright notice: All materials in this archive are copyrighted by Houston Chronicle Publishing Company Division, Hearst Newspapers Partnership, L.P., or its news and feature syndicates and wire services. No materials may be directly or indirectly published, posted to Internet and intranet distribution channels, broadcast, rewritten for broadcast or publication or redistributed in any medium. Neither these materials nor any portion thereof may be stored in a computer except for personal and non-commercial use.Paper: Houston Chronicle
Date: SUN 08/22/2004
Section: B
Page: 2
Edition: 4 STAR
ON TWO / COMMUNITIES & NEIGHBORHOODS / FOCUS: EDUCATION / Old PCs reborn as learning tools / Cash-strapped day cares benefit from donations

By JUSTIN GEST
Staff
Bus. Hat. Drum. Sun.
Those are just a few words that Simeon Reece, a 4-year-old from Midtown, can recognize, pronounce and spell.
Press him, and the precocious preschooler will also share that his emerging ability to read is the result of hours spent on computer programs.
Sitting quietly in his bright-yellow, kid-size chair inside Houston's Pilgrim Daycare Center, Reece is a poster child for a new initiative called "Bridging the Digital Divide."
Created by Houstonian Johnny Molock, the program acts as an intermediary between philanthropists and corporations that need to dispose of outdated or unwanted PCs and thousands of day care centers nationwide that cannot afford such valuable learning tools.
"In the mid-1990s, President Clinton organized a committee to understand the effects of computer technology on America," said Molock, a computer science graduate of Texas Southern University. "They found that blacks and Hispanics did not have the same access as white children. We are attempting to fulfill that committee's recommendation to bridge the digital divide."
After receiving the surplus computers, Molock and his three-man staff install child-oriented literacy software called CompuChildren. Their efforts have resulted in computer stations at about 200 day care centers throughout Houston, and several more as far away as Victoria and Atlanta, Ga.
Though many of the refurbished machines are free of charge to the recipients, "Bridging the Digital Divide" occasionally charges day care centers a minimal fee in the absence of a benefactor to assume programming costs.
Pilgrim Daycare Center on Blodgett got six free computers that were otherwise destined for scrap. In this case, Bracewell and Patterson law firm's trash was a treasure for day care director Muhsinah Touré.
"Before getting the computers, we were presenting the alphabet through play activities, and teachers could only evaluate progress in an abstract way," said Touré.
"This program gives us immediate feedback. And it gives me the confidence to say that we are going to deliver a strong and effective education."
The software reinforces Touré's curriculum by engaging children from ages 2 to 5 in short games of identifying the appropriate letter on the keyboard, respelling a given word or typing a word that corresponds with a presented image.
"We have seen the children have such a keen interest in the equipment itself," Touré continued. "Kids love pushing buttons. They don't even realize that they're actually learning."
To expand his network of benefactors, Molock has enlisted the support of former University of Houston basketball star Rickie Winslow and his Houston-based charitable foundation.
"I'm trying to get people – whether it is (Houston Rocket) Tracy McGrady or simply a lawyer or a doctor or a schoolteacher – to realize how much they can help the community and all of the underprivileged families out there," said Winslow, who paid for the PC installation of the computers at Pilgrim Daycare. "Anybody can do it. And everybody has the opportunity."
"We know that if we hadn't given to these day care centers, they wouldn't have computers at all," Molock said.
"They can't drop thousands of dollars on a whole lab. We believe we have the formula to bring literacy at an early age to poor kids that otherwise can't afford it."

WANT TO CONTRIBUTE?
"Bridging the Digital Divide" rehabilitates and places unwanted or old computers into day care centers for free or minimal cost.
Equipment needed: Any full computer (complete with monitor, central processing unit and keyboard) that still runs. There are no software or memory requirements.
To make a donation: Bridging the Digital Divide: 713-349-0495 or molock@bdd-houston.org
To get involved: Rickie O'Neal Winslow Development for Youth: 281-261-1853, 281-207-2490 or rowdyfoundation@aol.com
Copyright notice: All materials in this archive are copyrighted by Houston Chronicle Publishing Company Division, Hearst Newspapers Partnership, L.P., or its news and feature syndicates and wire services. No materials may be directly or indirectly published, posted to Internet and intranet distribution channels, broadcast, rewritten for broadcast or publication or redistributed in any medium. Neither these materials nor any portion thereof may be stored in a computer except for personal and non-commercial use.

To follow progress of The Read By Five assessment follow us on Facebook and Twitter.

Follow me on social media: